The heart of sterile supplies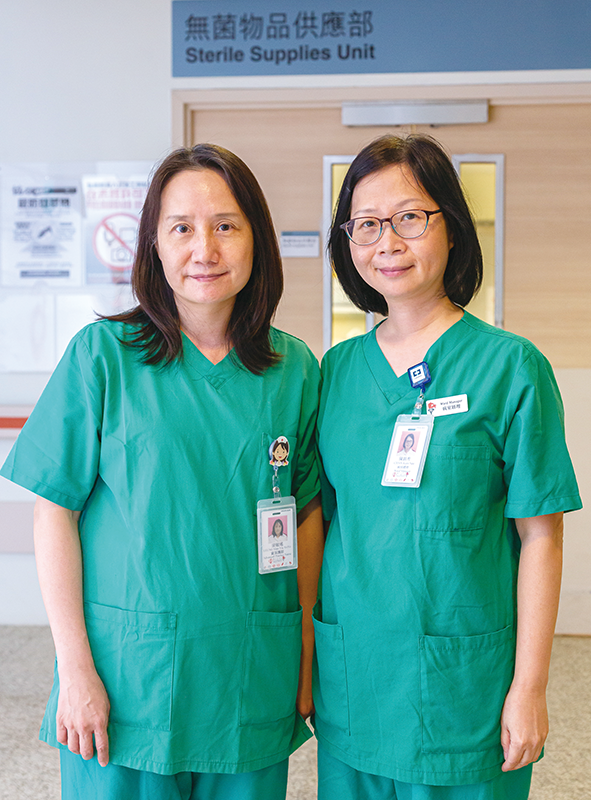 Sterile supplies are indispensable to successful surgery apart from exertions of staff working on the operation. Prince of Wales Hospital (PWH) Sterile Supplies Unit (SSU) received the Central Sterile Supplies Department Centre of Excellence Award last year from Asia Pacific Society of Infection Control, making it the first winner of this title among all public hospitals in Hong Kong. The cleaning and sterilisation procedures entail extensive expertise. Ward Manager Chan Kam‑sau explains the process to HASLink and emphasises that being meticulous about every tiny detail is key to guaranteed patient safety.
Before handing over to users, all instruments go through standardised procedures of cleaning, disinfection, and sterilisation within eight hours. For emergency surgeries, the fast track turnaround time is about four hours. "All items are first classified by material, type and size. Delicate instruments are washed by hand while others by washer disinfectors. After cleaning by water and detergent, they are thermally disinfected with hot water at 93°C," says Kam-sau. "Moving on to inspection and packaging area, all devices are checked and packed with chemical indicator added before they are sterilised by 134°C steam. Normal colour change on the chemical indicator and passing biological test represent effective sterilisation. Lastly, the sterile supplies are stored in a sterile store or sent to users at operation theatres (OT) and wards."
On facility design, dirty and clean areas are physically separated from each other and only unidirectional workflow is allowed in order to prevent cross‑contamination. In each procedure, every piece of device has to be recorded in the Surgical Instrument Tracking System which allows instant tracking and tracing of devices for better work efficiency and patient safety.
"New recruits have to undergo six-week intensive class training and then 18 weeks on-the-job training to familiarise themselves not only with the overall workflow but also cleaning skills of all equipment," explains Kam‑sau. "There is also a training session once a week to refresh colleagues' working knowledge. Whenever a new surgical instrument is introduced, vendors are invited to explain the equipment features and specific cleaning requirement." Advanced Practice Nurse Yoyo Leung adds, "We work closely with colleagues at OT to exchange on cleaning and safety precautions, and produced 'Risk Alert Card' together with photos of the corresponding device, component details and videos of assembly instruction which are put onto the tracking system for SSU and OT colleagues' reference."
SSU operates 24/7 throughout the year to offer cleaning and sterilisation service for devices such as surgical instruments, surgical implants, anaesthetic devices and dressings for PWH, Shatin Hospital, Cheshire Home, Shatin, Bradbury Hospice and four general outpatient clinics, and mutually support the other two Central Sterile Supplies Departments in the cluster. The annual throughput of SSU is about 1.1 million sterile items, with a daily throughput of 250 sets of surgical instruments, 400 individually packed devices and over 2,000 ward items.



▲TOP