HA's Got Talent Series-Part 1
From harmonicist to doctor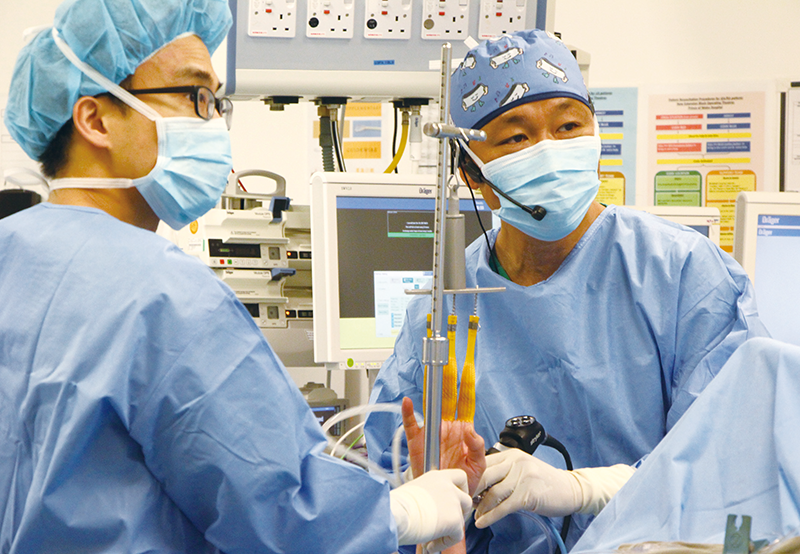 Dr Ho Pak-cheong grew up with a harmonica. The Chief of Service of orthopaedics & traumatology from Prince of Wales Hospital treats the harmonica as a magical tool to get close to patients. "I carry this small musical instrument with me all the time, playing solo or in an ensemble. Sometimes I improvise in front of patients. That helps me establish heartfelt doctor-patient relationships," says Dr Ho.
High school encounter followed by quintet at university
Made his first encounter with harmonica at 12, Dr Ho Pak-cheong has won international championships since. "I learnt to play harmonica because the school (King's College) had a mature team providing good training for us. My family was poor. Harmonica was the only affordable option among all musical instruments as it only cost three to four dollars at that time."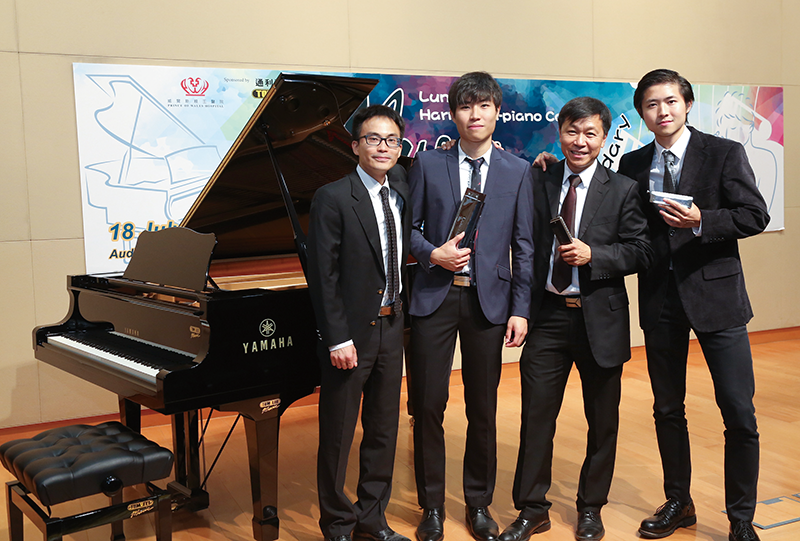 Dr Ho continued playing harmonica in his leisure time after graduation from secondary school. It was until 1987 when he failed a paediatrics examination that brought him closer to harmonica. "It was the final year of university. I was supposed to start working in hospital after graduation in June. Totally out of my expectation, I failed in an exam of paediatrics and had to retake it, but could only do so at year-end. I could only practise medicine until I passed that exam. Reluctant to just do one task in half year, so I set up 'King's Harmonica Quintet' with my best friends. Until now, we still practise once a week for three to four hours."
The quintet has staged numerous concerts and taken part in many international contests. They won the ensemble championship in World Harmonica Festival held in Germany in 1997. No matter how busy team members are, they practise every week. Dr Ho recalls once when he finished a major surgery and returned home at around 11pm exhausted. He saw his four team members waiting for him when he opened the door. Moved by his teammates' enthusiasm and perseverance, they practised into the small hours.
Beauty is the order of the day
Dr Ho's pursuit of beauty lies in both music and medicine. Professionally, he is passionate about minimally invasive surgeries of wrists. He is the ex‑president of European Wrist Arthroscopy Society and Asia Pacific Wrist Association. "When playing harmonica, I expect every note to be perfect. Such persistence also applies to my work as an orthopaedic surgeon. To heal a hand by restoring both look and function is a demonstration of beauty. When we apply the same quest for beauty in music to medicine, it leads to better outcome for patients."
Dr Ho established Hong Kong Harmonica Association in 2002 and actively promotes the harmonica activities in Hong Kong all these years. Influenced by father, Dr Ho's second son Leo has already won 17 international awards at the age of 19, including the solo champion of the open category of 2013 World Harmonica Competition in Germany. Now a professional chromatic harmonica player and singer-songwriter, Leo is often invited to be a performer, lecturer and adjudicator in various harmonica festivals. He has also worked with famous local artists, such as Sandy Lam, Hacken Lee and Leo Ku. Dr Ho's third son Felix also won the solo champion of the youth category of the World Harmonica Competition.
A lunchtime concert 'Music without boundaries' was staged recently at Prince of Wales Hospital (PWH) by Dr Ho, his two sons and his mentee Dr Michael Mak with three harmonicas and a piano. They played classical music of Johann Sebastian Bach and Felix Mendelssohn, filling the auditorium with applause and bravos. Footage of the concert can be accessed on PWH intranet.
Click here to view the interview on PWH lunchtime concert.
---
1987
Dr Ho (front right) formed King's Harmonica Quintet with his best friends.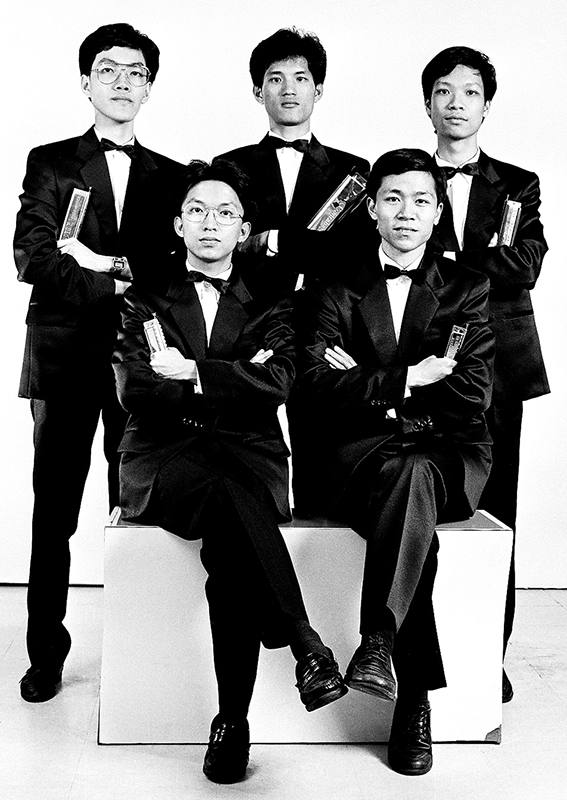 1990
King's Harmonica Quintet held the first concert and received high appreciation. A music review described it as 'the best concert in the last 10 years'.
1995
Dr Ho won duo of the World Harmonica Competition in Japan for the first time.
1997
King's Harmonica Quintet won the championship of World's Harmonica Competition in Germany. Family members travelled to Germany to support Dr Ho.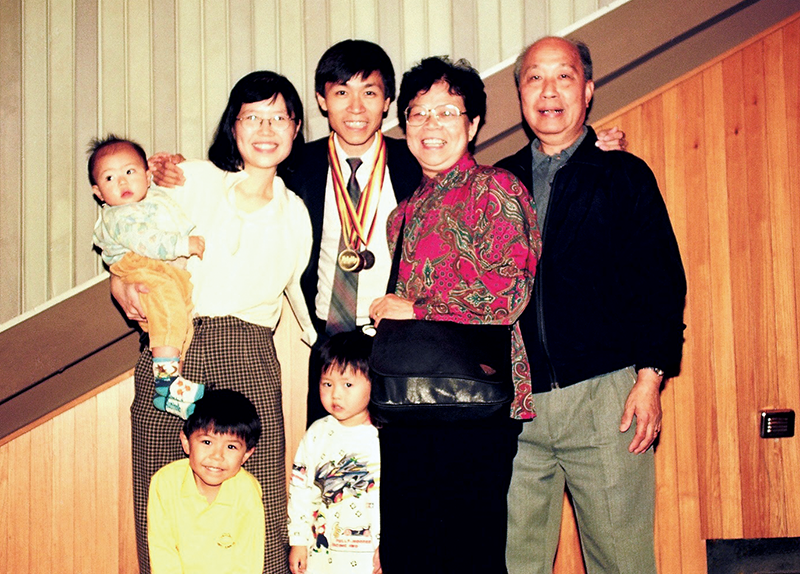 2002
Established Hong Kong Harmonica Association and became the founding president.
2002-2009
Dr Ho (seventh from right) participated in the Asia-Pacific Harmonica Festival as the Association's president in 2004.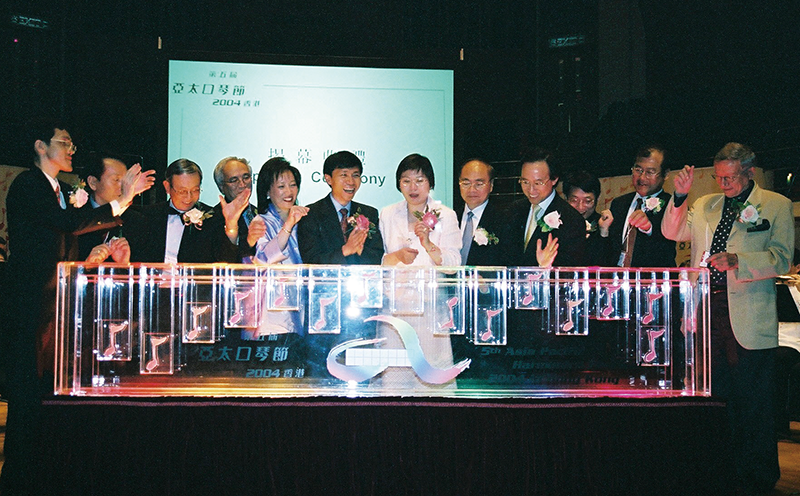 2011
King's Harmonica Quintet accompanied in Hacken Lee's concert.




▲TOP