Go green in daily life
Many colleagues uphold a green lifestyle by saving energy and living an eco‑friendly life. Green activities of various kinds are held in hospitals to create an atmosphere of green living, such as tree reservation, clever use of food waste, second‑hand bazaar, DIY food wrap and soap.
---
Green week
A green week was recently organised by Tuen Mun Hospital (TMH) with an exhibition on organic and handmade products, introduction on organic compost and how to make good use of food waste. There were also workshops on DIY beeswax wrap, and reuse and decoration of glass bottles.
---
DIY soap
A homemade soap workshop was organised by Princess Margaret Hospital (PMH) and colleagues learnt to make organic soap.
Click here and learn how to make your own soap!
---
Tree reservation
Operating Theatre Block for TMH is currently under expansion. The trees opposite the construction site may pose hindrance and danger, so they were replanted elsewhere in the hospital this May to keep the way clear and scenery green. Colleagues at Alice Ho Miu Ling Nethersole Hospital and Tai Po Hospital visited Wan Chai Environmental Resource Centre earlier this year to learn about the work of arborists, tree ecology and land pollution.
---
Tips on energy saving
Environmental Management Committee of PMH has launched the 'Green Summer Campaign' and provided colleagues with tips on saving energy at home and office. Here are some of the tips.
• Clean the dust filter of air conditioner every one or two weeks and remove dust on condenser. This can reduce 30% of energy use.
• Maintain cold air circulation in refrigerator by keeping food in good order and not storing too much food.
• Use smaller fire when cooking to avoid heat loss and energy waste from container surround.
• Use frying pan instead of round-bottomed wok to reduce heat loss.
• Pull down the blinds in office before leaving. This can reduce direct sunlight in office on the next day and thus save energy use of air conditioner.
• The last colleague leaving office should turn off the power supply of photocopier and printer, or install a timer to reduce energy consumption.
---
Second-hand bazaar
Sometimes bazaars are held in hospitals for colleagues to sell or exchange second-hand goods. You can give away reusable items to reduce wastes and also to create new value for others. Some donated products are brand new and of good quality. Things of various kinds can be found in bazaars, such as small electric appliances, handbags, clothes, or even books and toys. Here are details of several upcoming events known to HASLink.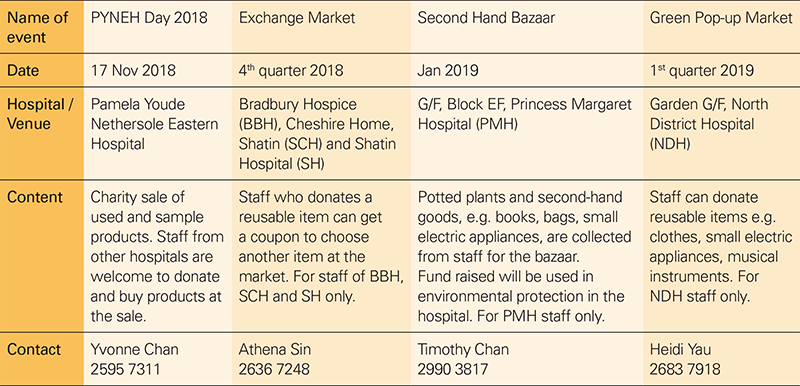 ▲TOP