Pets spread loving care in hospital
Animal-assisted activities can improve patients' physical, psychological, social and spiritual well-being. Experiences show that patients have their emotion soothed, pain relieved and blood pressure stabilised with the company of animals. Four dogs of different sizes and breeds visited patients in Caritas Medical Centre (CMC) on the interview day. Smiles spread over patients' faces when they saw the cute energetic furry friends performing tricks.
Animal visits are held in CMC once a month. Seven to eight pets divided into two groups visit two wards and stay with eight to ten patients for each one-hour session. Majority of participants come from orthopaedics and traumatology ward, paediatrics ward and palliative care ward. Patients are eager to touch and cuddle these lovable companions. Colleagues take instant photos for patients who keep them as souvenirs and show them to family members during the latter's visits to initiate conversation and share the joy.
Cats join ward rounds in overseas hospitals
Patients feel warm and cared for during pet visits. They express emotions more when interacting with animals. Margaret Suen, Kowloon West Cluster Coordinator (Medical Social Work) says, "Animal visits can brighten up the wards. Cats accompanying doctors in hospital ward round is not uncommon in overseas countries. It is considered reminiscence therapy for patients to talk about their experience of keeping pets. You can see great improvement of an unresponsive patient to surrounding environment."
While CMC started animal visits in palliative care ward in the early years, the activity has been organised by Health Resource Centre since 2015. Margaret points out that full preparation is done before each visit. Colleagues will inform patients of the programme, explain to them that all visiting pets are registered and trained by volunteer organisations, and ask if patients wish to join. Visits are conducted in designated activity room to avoid frightening patients who are afraid of pets and not to disturb the operation of the ward. Infection control measures are implemented, such as ensuring volunteers have received infection control training and pet volunteers are vaccinated; recording visiting animals, patients visited and visiting hours; and disinfecting the activity room afterwards.
---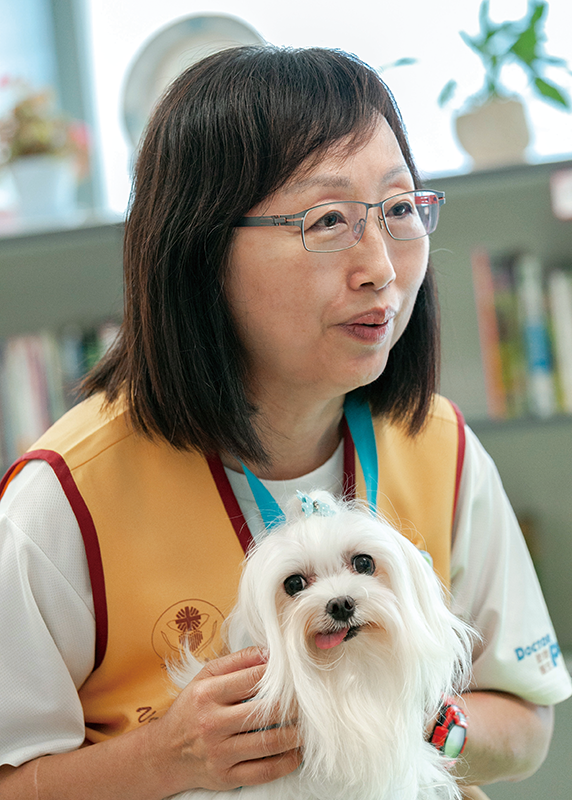 "I am a retired staff of HA. All my 13 dogs are pet volunteers. In the past 13 years, we have had over 600 visits. One of the most unforgettable experiences was that a female patient hugged my bichon frise passionately. Later I found that she was a long-stay patient and missed her bichon frise a lot. So she hugged and talked to my doggie as if it is hers. A simple visit is already a great social support to patients. It makes them feel less isolated and reignites their will to fight illness."
Gloria
volunteer
---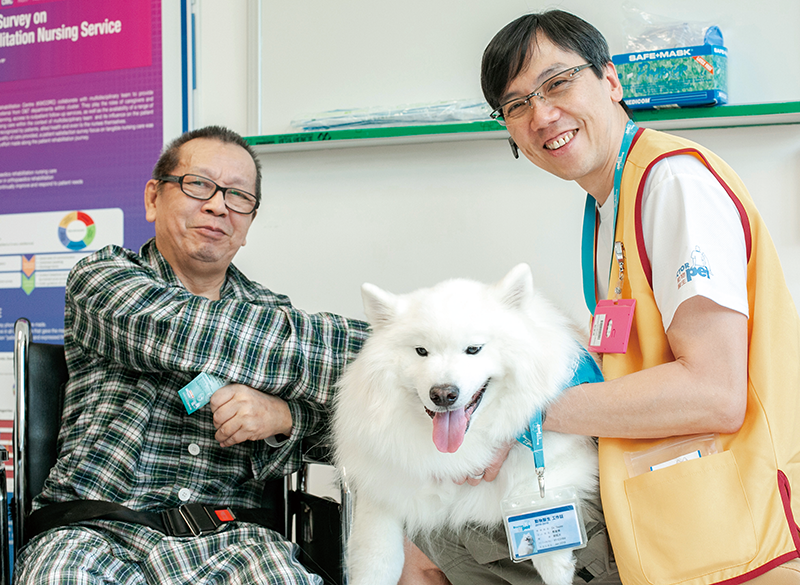 "I am a stroke patient and a frequent visitor to hospital over the past 30 years. I have seen animal visits on television before but it is the first time I really take part in it. The atmosphere is nice and I am glad to see the dogs in hospital."
Mr Liu (left)
patient
---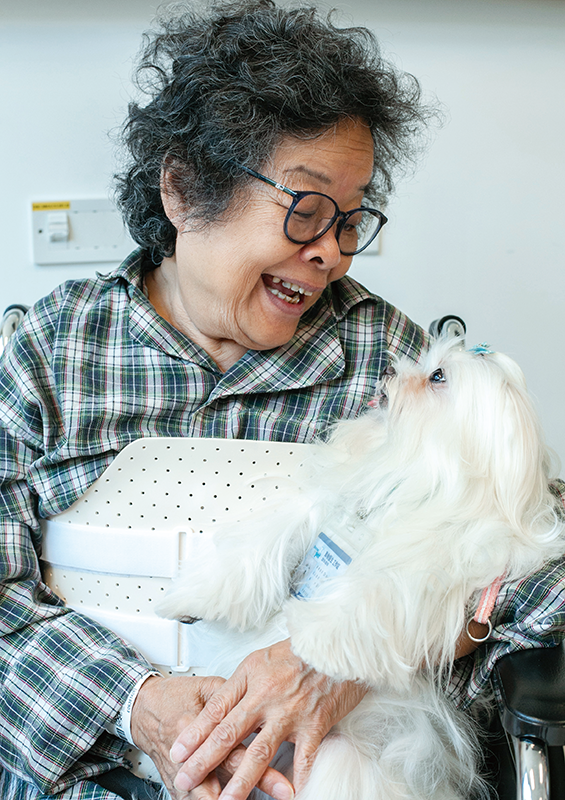 "I am so delighted to see pets while I am staying in hospital. I feel like being visited by family members who encourage me to get well soon. I love to cuddle and chat with puppies. When I look into their eyes, I see understanding and comfort."
Mrs Cheng
patient




▲TOP