A happy homecoming for a Russian patient stranded far from home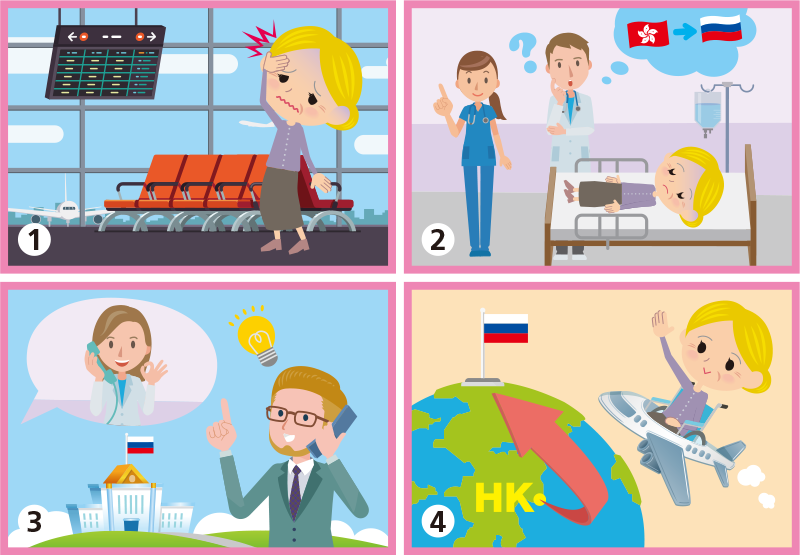 Care and humanity know no borders. It was movingly demonstrated by the dedicated care of a multi-disciplinary team at North Lantau Hospital (NLTH) who nursed an elderly Russian patient and overcame numerous difficulties over four years before eventually returning her home.
The patient – known as Lina (pseudonym) – collapsed with deep vein thrombosis while in transit in Hong Kong International Airport on 29 May 2015 and was sent to Princess Margaret Hospital for resuscitation and treatment. Her daughter flew from Russia with the intention of bringing her home but had to leave without her for family and financial reasons when Lina's condition was unfit to be discharged.
Mother let down by daughter's empty promise
A year later, Lina's condition was stabilised and she was transferred to NLTH for rehabilitation and discharge but sadly her daughter and family members never returned for her.
Homesick and far from home, Lina kept saying the Russian word 'Дом', meaning home. "Put yourself in the patient's shoes. No one wants to be left alone in a strange country, particularly when they are unwell," says Dr Ko Chi-fai, Consultant of Medicine and Geriatrics Department. "We believe patient-centred care is in the best interest of the patient, so we did our best to keep her dream of returning to homeland alive."
As a result of cerebral anoxia – reduced supply of oxygen to the brain – caused by deep vein thrombosis, Lina suffered from the loss of hand function, reduced lower-limb movement, had slurred speech and difficulty swallowing. To reduce the risk of infection and development of pressure sores, Lina was provided with comprehensive, holistic care including quality treatment and rehabilitation, frequent reposition, nasogastric tube feeding, bathing, haircutting and emotional support from a multi-disciplinary team including doctors, nurses, physiotherapists, occupational therapists, medical social workers, Chaplaincy, Catholic Pastoral Care Unit, dieticians, and patient care assistants.
Curing homesickness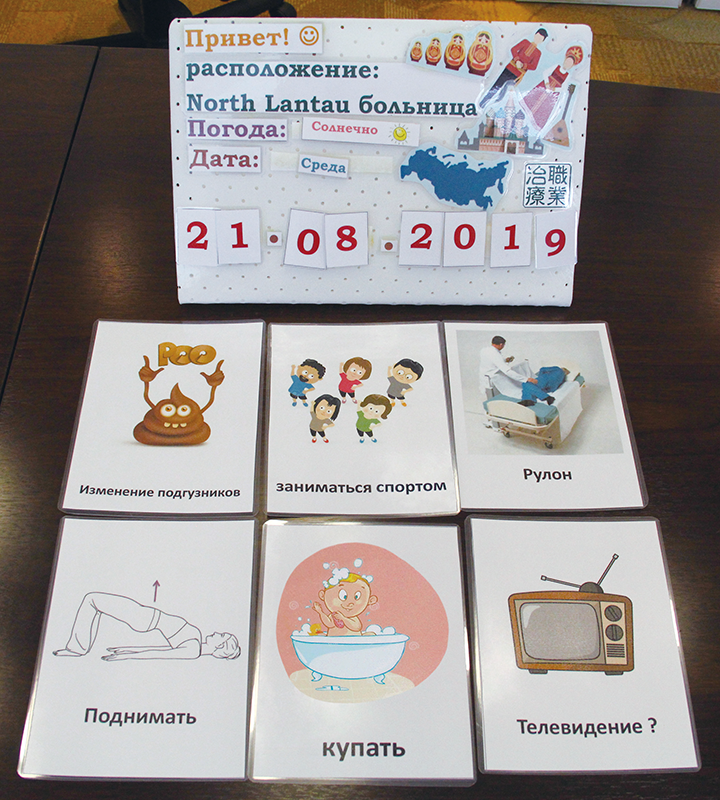 Occupational Therapist Heidi Ng noticed early in her treatment of Lina that she was more responsive to training materials that contain Russian TV programmes and music. Heidi came up with the idea of a special communication board to overcome the language barrier. She also printed a set of tailor-made pictorial activity cards and a calendar in simple Russian on a display board. The Catholic Pastoral Care Unit invited a Russian priest to visit her and help relieve her homesickness. Team members saw Lina become more cooperative and willing to take part in rehabilitation training, even joking and playing tricks on them.
Medical social workers meanwhile contacted the Russian consulate for assistance. Officer-in-Charge of the Medical Social Services Unit Annie Ip says that they maintained close contact and discussed feasible repatriation plan with the consulate throughout Lina's treatment via phone call and correspondences. They also arranged a video call in which Lina expressed her desire to go home directly to the consulate.
Good news came in April this year. The consulate told Lina's social worker that a church group in Russia had launched a crowdfunding appeal to raise money for her repatriation along with the arrangement of a convalescent home and care services in Russia. Three months later, on 3 July, the moment finally came for Lina to leave. As the team gathered to bid farewell to Lina, who arrived in Hong Kong four years ago as a stranger and left as a dear friend, they were close to tears when she smiled fondly and said to them in Cantonese, "Thank you and goodbye."
---
Prepare for homecoming
The multi-disciplinary team spent two months making discharge arrangements for Lina to ensure her journey home was a safe and happy one.
Transport
• Two Russian medics arrived in Hong Kong a day ahead of departure to collect Lina from the hospital and escort her home
• A scheduled flight with medical equipment was arranged by the Russian consulate
Medical records and supplies
• Prepared medical records, diagnoses, medication reports, details of the medical equipment required, and information about Lina's current medication, treatment, and rehabilitation programme
• Enough medicine was prepared to last her for a few months upon arrival
Food and clothing
• Provided details of what food to give Lina, and in what quantities and the feeding method
• Ensured Lina had an adequate supply of liquid food for the journey
• Prepared adequate diapers
• Prepared new clothes and a warm coat donated by the Red Cross



▲TOP