HA's Got Talent Series
A pathologist's illuminating journey through the world of light art

Light and darkness • Life and death
Psychologist Carl Jung said, "As far as we can discern, the sole purpose of human existence is to kindle a light in the darkness of mere being."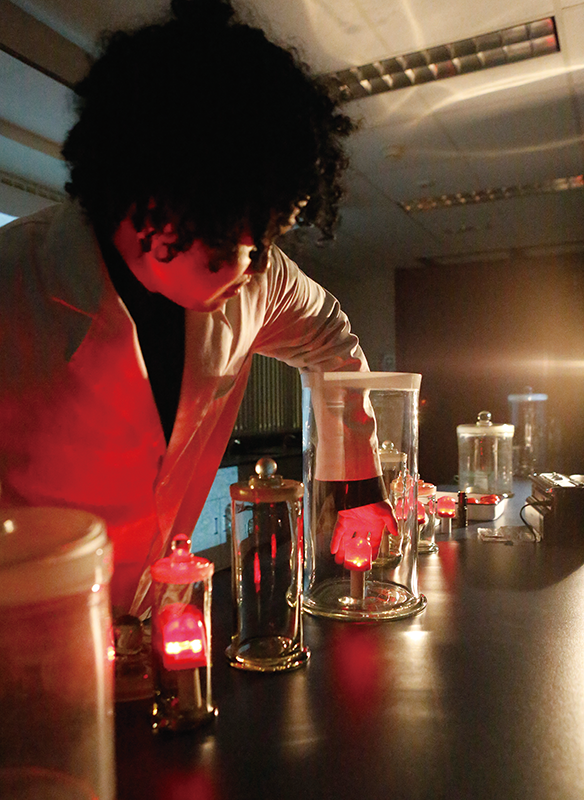 Dr Amy Chan of the Prince of Wales Hospital (PWH) understands better than most people the importance of kindling that light. She is a light artist as well as a Consultant in Anatomical and Cellular Pathology, and believes the worlds of both medicine and art revolve around a person's ability to shed light on a situation in order to see it more clearly. "Light is abstract yet important," she says. "We can't examine patients and medical images without light. In the artistic world, visual elements play a key role. You receive artists' messages through seeing in art forms like painting, theatre, and photography."
Light as an art form
Different art forms convey ideas and messages through different mediums of expression – canvas and pencils for drawing, for instance, cameras for photography, and actors, props, and staging for theatre. Light artists manipulate the colour, shape, intensity, and direction of light to create unique atmospheres and scenes. The principle is summed up by German theatre scholar and author of Postdramatic Theatre Hans-Thies Lehmann who argues text is not the only element for plot progression. Artistic components such as light, music, and stage setting can also develop a theme and bring performance to life.
Three decades of pursuit of light art
Dr Chan's interest in light art began almost 30 years ago after her Hong Kong Certificate of Education Examination. She made her stage debut and won an award in the Hong Kong Urban Council Drama Festival. Her love of drama blossomed during her busy years of medical studies when she took theatre roles as an actor, playwright, and director. As it is not easy for an amateur drama group to invite lighting designer for collaboration, Dr Chan taught herself the techniques she uses and became increasingly committed to her art. After gaining years of lighting design experience, she was admitted to a master degree programme in fine arts in theatre and entertainment arts at the Hong Kong Academy for Performing Arts in 2011, majoring in light design. Her light technology knowledge and aesthetic creation were nurtured and demonstrate greater depth in her works.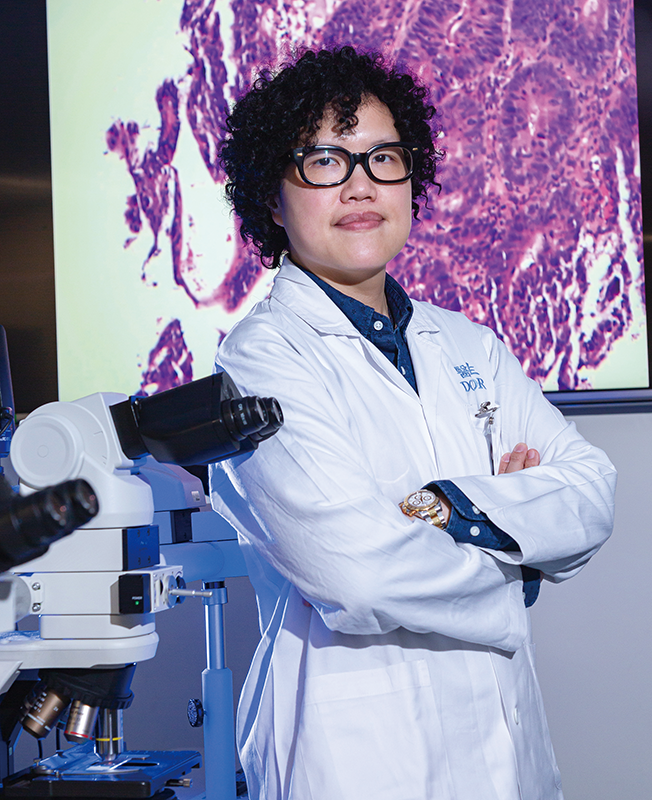 Light art also led Dr Chan to choose pathology as her specialty. "When I was studying medicine, I spent an extra year in an Intercalated Degree Programme in Medical Sciences, Bachelor of Medical Science (now obsolete), during which I learnt to conduct medical research. At the same time, I carried on my interest in theatre," she says. "My research mentor Professor John Chow was a very cool person who produced and acted in a drama about pathology. It was then I realised the possibility of getting involved in both worlds – medicine and drama – and I started to develop an interest in pathology."
Patient needs reflected through artworks
It is a common concept that medical professionals rely on reason while arts professionals rely on emotion. For Dr Chan, the two disciplines can comfortably co-exist. "Take my master graduation performance Morbid Anatomy as an example," she says, referring to her one-hour performance staged in the Pathology Teaching Laboratory at PWH which drew on medical scenes and settings. "The show aimed at stimulating the audience to reflect on their own experiences and feelings related to medicine, and explore the connection between the healthcare system and people. When I look at a slice of tissues under a microscope, I do not only think about the disease it reflects, but also the needs of the patient. Medicine and arts both involve deliberation of human needs from different dimensions, and care for humanity."



▲TOP