Introduction
The New Territories West (NTW) Diabetes Centre is located on the 1/F. The Centre is managed by a team of endocrinologists and diabetes nurse educators, who provide assessment, counseling, diabetes self-management education, metabolic risk assessment and ambulatory anti-diabetic drug dosage adjustment to diabetic patients. We serve paediatrics referred from Paediatric Diabetes Clinic and adults from Medicine and Geriatric Clinic. In addition, the Centre also provides support to Family Medicine Specialist Clinic in Pok Oi Hospital and GOPCs.
Aim of Service:
To provide a holistic diabetes care to diabetic patients.
To offer one-stop multi-disciplinary service with allied health professionals (Dietitians, Podiatrists, Medical Social Workers and Clinical Psychologists).
Diabetes Services
To enrich the basic knowledge and understanding on diabetes self-management, the Centre provides a diversified educational class to empower patients on Diabetes Self-Management Education (DSME). We encourage their family members to assist and support patients to face diabetes.
Referral from doctor is needed. Patients are mainly referred from the Department of Medicine and Geriatrics, Department of Family Medicine and Department of Adolescence and Paediatrics of Pok Oi Hospital. Firstly, patient will be arranged to attend diabetes education class and metabolic risk assessment, and regular individual follow up will be further arranged in the Centre. The content in education class includes: basic diabetes knowledge, diet concept, knowledge of medication, high and low blood sugar symptoms and management, self-blood glucose monitoring and lifestyle modification. Diabetes nurse also encourages patients' relatives and friends to participate in educational lectures without any additional charges.
For those poor glycaemic control or ambulatory problem, diabetic patients will be arranged admission at medical ward for further management. Diabetes nurse provides diabetes care at hospital: such as teaching home blood glucose self-monitoring, insulin injection technique. After discharge, patient will follow up at DM Centre for continuous diabetes care. If patient's glycaemic control is unsatisfactory, patients can be referred to see endocrinologist in the Diabetes Intensification Clinic (DINT) at DM Centre.
In addition, the Centre provides metabolic risk assessment for the diabetes: eye assessment (visual acuity and retina), foot assessment, spot urine saving for microalbuminuria, a set of blood check related to diabetes. Regarding retinal assessment, the Centre has a Retinal Camera, which is used to take retinal photos without applying eye drops to dilate the pupils. It provides effective and quick check on retina. If there is acute abnormalities, timely referral will be arranged.
Apart from clinical service, our Centre is obliged to be a training centre for doctors and nurses in diabetes care. Our endocrinologists and diabetes nurse educators are regularly organizing updated educational workshops in New Territories West Cluster. We are also running clinical trials on diabetic patients and involving in quality improvement projects (e.g. patient empowerment programme)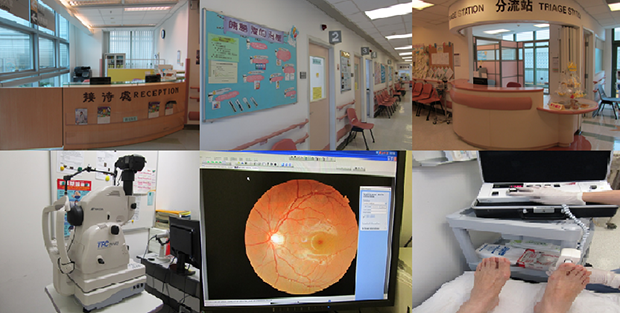 Service Hours
| | |
| --- | --- |
| Monday to Friday | 9:00 am to 5:00 pm |
| Saturday | 9:00 am to 1:00 pm |
| Sunday and Public Holidays | Closed |
Contact Us
| | |
| --- | --- |
| Address: | 1/F, Pok Oi Hospital |
| Telephone: | 2486 8100 |