Introduction
The Physiotherapy Department of Pok Oi Hospital always sincerely works with "Quality Physiotherapy to serve the community" as our department objective. We try our best to provide a variety of high quality and effective physiotherapy service to the residents in the New Territories West Region.
What is Physiotherapy?
Physiotherapy is a non-pharmaceutical therapeutic mean based on the theories of modernized western medicine. It makes use of human body's physiological responses upon physical stimulus to achieve therapeutic purpose. The therapeutic effect can be achieved by using exercise training, manual therapy, electric power, hydraulic force, cold, warmth, light or magnetism. Through the physiotherapy service, we aim at improving the quality of lives of patients by pain relief, restoration of mobility, cardiopulmonary function and daily functional capacity.
Scope of Service
Pok Oi Hospital is wholeheartedly committed to provide a variety of physiotherapy services to patients in the New Territories West cluster. The scope of services is as follows,
Outpatient Services
Targets:
The public
Services:
Musculoskeletal rehabilitation
Post operation rehabilitation
Pain management
Stroke rehabilitation
Weight management
Inpatient Services
We provide physiotherapy services to the Accident and Emergency Department, Intensive Care Unit, Medical Wards, Orthopaedics and Traumatic Wards, Surgical Wards and Pok Oi Hospital Tin Ka Ping Infirmary.
1. Cardiopulmonary Rehabilitation Service
| | |
| --- | --- |
| Targets: | Patients with impaired pulmonary or cardiac function |
| Treatment Goals: | To maintain the hygienic condition of the patient's respiratory tract and to improve the cardiopulmonary function and exercise tolerance. |
| Treatment Methods: | Postural drainage, percussion, vibration, relaxation techniques, breathing exercises, strengthening exercise, aerobic exercise, etc. |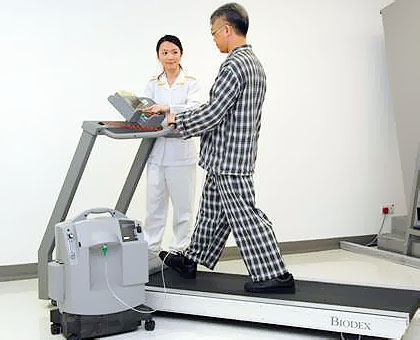 2. Musculoskeletal Rehabilitation Service
Targets:
Patients have pain or decreased function which caused by orthopedic and traumatic injuries or degenerations
Treatment Goals:
To improve circulation, decrease inflammation, relieve pain, functional restoration and prevent recurrence.
Treatment Methods:
Appropriate physiotherapy treatment such as exercise therapy, manual therapy, acupuncture, electrical therapy, heat therapy, cryotherapy, magnetic therapy, etc. will be provided according to comprehensive assessment.
Walking aids or ambulatory devices will be prescribed if necessary.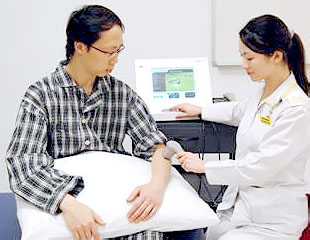 3. Stroke Rehabilitation Service
| | |
| --- | --- |
| Targets: | Stroke patients |
| Treatment Goals: | To maximize the functional restoration of stroke patients, and improve the independency in daily life |
| Treatment Methods: | Assessment, rehabilitative exercise, mobility training and use of walking aids. |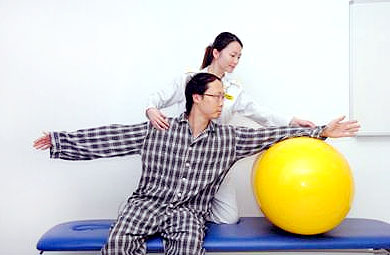 4. Pre- and Post-operative Service
Targets:
Patients require to undergo surgery
Treatment Goals:
To help patients prepare for surgery in pre-operation stage.
To facilitate the rehabilitation and to prevent the post-operative complication so that the patients can improve the daily functional independency in post-operation stage.
Treatment Methods:
Pre-operative assessment and education talk, post-operative assessment and rehabilitative exercise.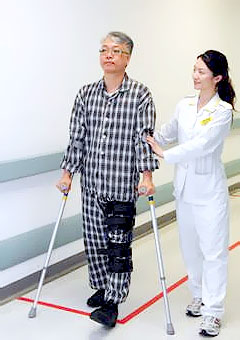 5. Infirmary services
| | |
| --- | --- |
| Targets: | Patients in Pok Oi Hospital Tin Ka Ping Infirmary |
| Treatment Goals: | To prevent complications caused by prolonged immobilization, such as chest infection, pressure sore, limbs contracture, etc. |
| Treatment Methods: | Passive limbs exercise, chest physiotherapy, ambulation exercise, etc. |
6. Integrated Discharge Support Program
| | |
| --- | --- |
| Targets: | Patients discharged from Pok Oi Hospital. |
| Programme Goals: | To improve the quality of life and to reduce the risk of re-admission by providing short term post-discharge home physiotherapy services. |
| Treatment Methods: | Physiotherapy assessments, Mobility training, chest physiotherapy, pain management, etc. |
7. Hydrotherapy Service
| | |
| --- | --- |
| Targets: | Suitable patients referred from physiotherapist in New Territories West Cluster |
| Treatment Goals: | To attain the treatment effect such as improving joint range of motion, promoting circulation, easing muscle spasm and modulating pain. Moreover the buoyancy, resistance could also strengthen the muscle power and facilitate balance training. |
| Treatment Methods: | By applying the unique property of water including buoyancy, resistance and temperature. |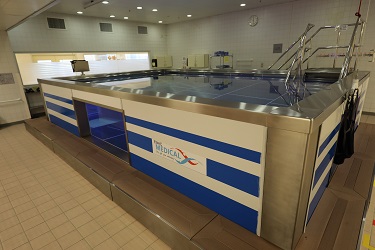 Community Service
| | |
| --- | --- |
| Targets: | The public |
| Treatment Goals: | To enhance the awareness of the public on healthy lifestyle and physiotherapy management on common diseases in order to achieve the long term goal of "prevention is better than cure". |
| Treatment Methods: | By means of education talks, workshops, poster exhibition, pamphlets, etc. |
Service Hours
Monday to Friday
09:00 am to 12:30 pm
01:30 pm to 05:00 pm
Saturday
09:00 am to 12:00 pm
Sunday and Public Holiday
Closed
Contact Us