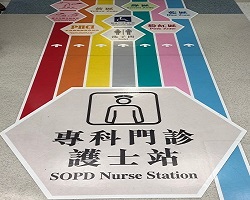 Specialist Out-patient Department (SOPD) provides various outpatient services including
Medicine & Geriatrics
Surgery
Orthopaedics & Traumatology
Family Medicine
Paediatrics & Adolescent
Ear, Nose & Throat
Ophthalmology
Breast Care Services
| Pok Oi Specialist Out-patient Department Services | Phone Number |
| --- | --- |
| Medical & Geriatrics Clinic | 2486 8651 |
| Surgical Clinic | 2486 8610 |
| Orthopaedics & Traumatology Clinic | 2486 8610 |
| Family Medicine Specialist Clinic | 2486 8660 |
| Paediatrics & Adolescent Medicine Clinic | 2486 8630 |
| Ear, Nose & Throat Clinic | 2486 8298 |
| Ophthalomology | 2486 8455 |
| Breast Services Centre | 2486 8259 |
| Specimen Collection & Blood Taking Room | 2486 8622 |
| SOPD Registration & Booking Counter | 2475 8702 |
| SOPD Nurse Station | 2486 8620 |
SOPD - Service Hours
Monday to Friday
9:00 am to 1:00 pm
2:00 pm to 5:00 pm

No services on Saturday, Sunday, Public holiday, Typhoon No. 8 or above, Black Rainstorm Signal or during Extreme Condition
Contact Us
Address:
Specialist Out-patient Department,
North Wing, M/F, Pok Oi Hospital,
Yuen Long, New Territories
Telephone:
2475 8702 (SOPD Registration Office)
Fees and Charges
Service hours for new case booking
Specialist Out-patient New Case Appointment Booking and South Wing Registration Office, South Wing, M/F, POH
Monday to Friday
9:00 am - 1:00 pm
2:00 pm - 5:00 pm
Saturday
9:00 am - 1:00 pm

* On Saturday: please proceed to Counter 5, SOPD Registration Office, North Wing, M/F, POH
No services on Sunday, Public holiday, Typhoon No. 8 or above, Black Rainstorm Signal or during Extreme Condition
Location for registration and payment (New case and follow up case)
SOPD Registration Office (North Wing, M/F, POH)
Service Hours
Monday to Friday
8:30 am - 5:00 pm
No services on Saturday, Sunday, Public holiday, Typhoon No. 8 or above, Black Rainstorm Signal or during Extreme Condition
Specimen collection and blood taking arrangement information
| | |
| --- | --- |
| Address: | Specimen Collection & Blood Taking Room, North Wing M/F, Pok Oi Hospital |
| Telephone: | 2486 8622 |
Service Hours
Monday to Friday
8:30 am - 12:45 pm
2:00 pm - 4:45 pm
Saturday
8:30 am - 12:45 pm
No services on Sunday, Public holiday, Typhoon No. 8 or above, Black Rainstorm Signal or during Extreme Condition
Booking Arrangement of New Case
For arrangement of new case appointment, you should provide following documents:
Doctor's referral letter issued by Hong Kong registered medical practitioner within the last 3 months ( Please verify patient's Chinese and English name on the referral letter with the HKID or travel document ) and
Patient Identity documents
Correspondence address
Procedures for new case booking
Patients or their relatives should follow the booking procedures as below:
In person:
Present the documents mentioned above to the Specialist Out-patient New Case Appointment Booking and South Wing Registration Office, South Wing, M/F during office hours.
By fax:
Enclose the patient's correspondence address and contact phone number;
All photocopies of relevant documents.
Please fax the information listed above to fax no.: 2486 8543 (SOPD Registration Office, POH). Upon receiving the relevant information, our staff will contact the patient within two working days.
HA Go
HA Go provides a mobile platform for the public to submit application for Hospital Authority Specialist Outpatient Clinic (SOPC) new case appointment. (Except Family Medicine Specialist Clinic)
Waiting Time for New Case Booking for Specialist Out-patient Services
Reschedule new case appointment
Patients who did not show up upon consultation can request for rearranging another appointment in person / over the telephone.
Reschedule or enquiry for follow up case
Advance booking must be required for all old case patients. You may contact our staff of Registration Office for appointment arrangement. Please note that patients' personal data information is required for all appointment booking.
If patients' condition is deteriorating, please seek medical advice from G.P., GOPC or even A&E Department in case of emergency.
For enquiries:
By phone: 2475 8702
In person: SOPD Registration Office, North Wing, M/F, POH
Notice to patient upon consultation
Patients must provide the original of the valid identity documents for registration on the date of appointment:

For patient at or above 11 years old, please present the valid Hong Kong Identity Card or other valid identity documents (excluding Hong Kong Birth Certificate).
For patient under 11 years old, please present the following valid documents:

Patient's Hong Kong Identity Card; or
Patient's Hong Kong Birth Certificate indicating his/her right as a Hong Kong permanent resident is "established"; or
document issued by the HKSAR Immigration Department to the patient indicating his/her right to land/stay in Hong Kong, e.g. Visa, Permit to Remain in the Hong Kong Special Administrative Region.

For patient under 42 days' old and has not obtained Birth Certificate, please present the following valid documents:

Immunization Record AND mother's valid identity documents*; or
Immunization Record, Marriage Certificate AND father's valid identity documents*
*Valid Identity documents are:

Hong Kong Permanent Identity Card; or
Hong Kong Identity Card (Non-Permanent) and Visa / documents issued by the HKSAR Immigration Department indicating the parent(s) has not overstayed ; or
Identity / Travel document issued by the Peoples' Republic of China

For each time of consultation, patients have to present the original of valid identity documents to confirm the eligibility for subsidized public healthcare service.
Non Emergency Ambulance Transfer Service

Patients who wish to use the service can inform staff of the specialist out-patient clinic or ward. Those who have been assessed by healthcare staff as meeting the service criteria would be provided transfer between their residence and the hospital at no charge.
Special Arrangement on Specialist Out-patient Clinic Operation during Tropical Cyclone and Rainstorm Warning