History and Introduction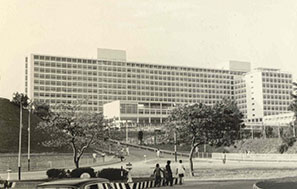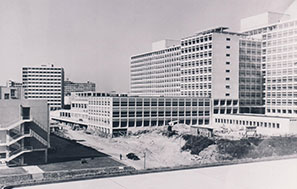 History
Queen Elizabeth Hospital (QEH) started its service 1963 at the height of immigration from the Chinese mainland and huge population growth. At that time, it was managed by the Medical and Health Department of the Hong Kong Government. Over the next thirty years it became the major hospital in central Kowloon, and the centre of tertiary referral from all over Hong Kong. In 1991, the Hospital Authority (HA), a Statutory Body, was established. The HA took over the management of all public hospitals in Hong Kong in 1992. Since then, QEH was jointly managed by the HA and her own QEH Hospital Governing Committee.
Introduction
QEH is the largest hospital under the management of the HA and offers a full complement of services to Hong Kong people. Located in the heart of Kowloon, QEH operates a 24-hour Accident and Emergency service and a full spectrum of specialist services. It provides medical care in both inpatient and specialist outpatient services. QEH is also a referral centre of the major specialties.
Vision Mission Value
VISION
In Life we Share
In Health we Care
In Excellence we Fare
To Pursue Excellence in Health Services
MISSION
We deliver quality health service to our clients
We partner with the community to provide holistic care
We train healthcare professionals to pursue excellence
We promote learning culture, research and innovations
VALUE
R

espect

E

mpathy

S

haring

P

rofessionalism

E

fficiency

C

reativity

T

rust
Governance
The Hospital Governing Committee of QEH was established in 1992 by the HA Board to assist the HA to oversee the management and operation of the Hospital. Members of the Hospital Governing Committee are community members nominated by the HA. The membership list is as follows :
Chairman
Dr Thomas TSANG Ho-fai, BBS
Members
Mrs Diana CHAN TONG Chee-ching, JP
Mrs Sylvia LAM YU Ka-wai, SBS
Dr Peter LEE Kwok-wah
Dr John LEE Sam-yuen, BBS
Prof LI Chi-kong, JP

Mr Bernard MAN, SC
Prof David NG Ka-sing
Ms Nikki NG Mien-hua
Mr Alec TONG Chi-chiu
Mr WOO King-hang, JP

Ex-officio Members
Dr Eric CHEUNG, Cluster Chief Executive, KCC / Hospital Chief Executive, QEH
Dr Johnny CHAN, Deputy Hospital Chief Executive (Professional Services)
Organisation Structure
Hospital Chief Executive
Dr Eric CHEUNG
DHCE (Operations), QEH
Dr W L POON
DHCE (Corp Affairs), QEH
Dr Y C LI
DHCE (Prof Serv), QEH
Dr Johnny CHAN
General Managers (GM)

Administrative Services: Mr Antony LUI
Finance: Ms Yvonne CHAN
Human Resources: Ms Michelle CHOW
Nursing: Ms LI Wah Chun

Service Directors (SD)

Quality & Safety: Dr Osburga CHAN

Chief of Services (COS)

COS (A&E): Dr C W CHAU
COS (Anaes & OTS): Dr K C LUI
COS (Clin. Onc.): Dr Harry YIU
COS (CTS): Dr H L CHEUNG
COS (DR&I): Dr W L POON
COS (ENT): Dr T C CHU
COS (FM&PHC): Dr Y C LI
COS (ICU): Dr George NG
COS (Med): Dr W C FONG
COS (NS): Dr F C CHEUNG
COS (O&G): Dr Dr W H LI
COS (O&T): Dr K K LI
COS (Paed): Dr Winnie CHAN
COS (Path): Dr Alex CHAN
COS (Surg): Dr C H LAU

Department Managers (DM) /
In-charge (i/c)

Clinical Psychology: Ms Flora LEUNG
Dietetics: Ms Sandy CHANG
Occupational Therapy: Ms Janice LUI
Pharmacy: Dr Wilson LEUNG
Physiotherapy: Dr Andy CHAN
Podiatry: Ms Nicole LAM
Prosthetic & Orthotic: Mr Y Y KWONG
Medical Social Services: Ms Sherry WU
Speech Therapy: Ms Ada LEE

QEH Charitable Trust
The Queen Elizabeth Hospital Charitable Trust (QEHCT) was established in 1995 with an aim to meet the following purposes:

To support the healthcare services of QEH
To enhance the continuous quality improvement of healthcare services, supporting the physical, psychosocial and spiritual needs of patients
To acquire state-of-the-art equipment, promoting the advancement of medicine
To facilitate staff development and give support

Thank you for your generous donation. It will bring hope to patients and families in need.
Queen Elizabeth Hospital Charitable Trust Website
Code on Access to Information
The HA has designated a Hospital Authority Head Office (HAHO) Access to Information Officer who is responsible for ensuring requests for access to information are properly dealt with in accordance with specific procedures.
Requests for information or records held by the HA may be made by letter or application form (PDF / MS Word) obtained from the Ground Floor Reception Counter of the Hospital Authority Building, 147B Argyle Street, Kowloon. The application should be addressed to -



For information on HA or more than one HA hospital or institution:

HAHO Access to Information Officer
Hospital Authority Building
147B Argyle Street Kowloon

For information concerning only one hospital:

Hospital Access to Information Officer at address shown on the attached list of the application form

Details of the Code on Access to Information are available for perusal at the Code's website.

The following information is available for public inspection at the Ground Floor Reception Counter, Hospital Authority Building, 147B Argyle Street, Kowloon:


Organisation charts of the HA (in English);
A list of information by category held by the HA (in English);
A list of information published or made available free of charge (in English/Chinese);
A set of administrative procedures for handling requests for information under the Code (in English).

Other than publications which are available free of charge, the following photocopying (black and white) charge, which is subject to revision, will be levied:
A4 size paper at $1.2 per copy;
A3 size paper at $1.4 per copy
For enquiries, please call 2300 6555 during office hours.
Baby Friendly Hospital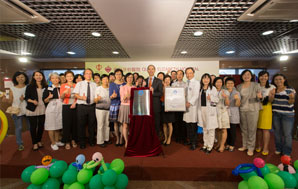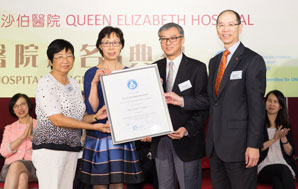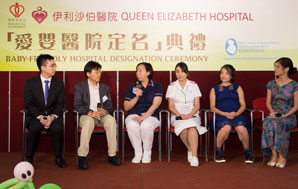 Queen Elizabeth Hospital is a "Baby-Friendly Hospital"

The Baby-Friendly Hospital Initiative (BFHI) is a global initiative of the World Health Organization (WHO) and UNICEF launched in 1991. It aims to give every baby the best start in life by creating a health care environment that supports breastfeeding as the norm.

Queen Elizabeth Hospital firmly believes that breastfeeding offers enormous and irreplaceable health benefits to both mothers and children and has always promoted and supported breastfeeding. The Hospital adopts the recommendations of the "Ten Steps to Successful Breastfeeding" and the "International Code of Marketing of Breast-milk Substitutes" by "UNICEF" and "WHO" in the Hospital Policy.

We train our staff, actively initiate and implement mother and baby-friendly services and do our best to help parents make informed decisions on infant feeding. The Hospital started with the Baby-Friendly Hospital accreditation process in 2013. We have successfully gone through different levels of assessment and accreditation in staff training and clinical service. The Hospital is designated as a "Baby-Friendly Hospital" in May 2016, and which is the first in Hong Kong. We will maintain regular monitoring and commit to improve our service for maternal and child health.
Queen Elizabeth Hospital Baby-Friendly Hospital Website