Our Service
1. Primary Health Care Services
Provide holistic, preventive, comprehensive and continuous medical service to treat episodic illness and chronic disease management including diabetes and hypertension
Nursing services include:Health assessment and education, Wound care, Vaccination, Drug administration & supervision so as to enhance patient care and promote treatment efficiency and effectiveness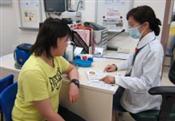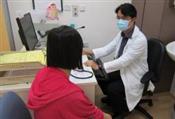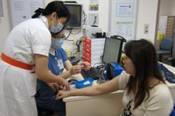 2. Nurse Clinic
Advanced Practice Nurse collaborates with family physician to support patients with chronic disease(s) seamlessly through comprehensive assessment, monitoring and appropriate interventions
Promotes self-care ability, revitalizes life quality and minimizes disease complication
Target patients include Diabetes Mellitus, Hypertension, Chronic Wound, Chronic Obstructive Pulmonary Disease, Coronary Heart Disease or Heart Failure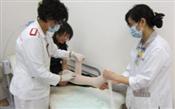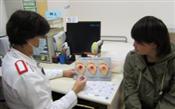 3. Fall Prevention Programme
The Fall Prevention Programme is provided by Occupational Therapist and Physiotherapist. It aims at providing early detection and prevention of fall among elderly in community.
Target clients
Elderly people aged 60 or above and has history of fall or nearly fall within 1 year
Potential faller with risk factor such as poor balance, gait deficits and functional decline
Programme content
Fall prevention education talk
Individual fall risk assessment and interventions
Fall prevention therapeutic group (exercise and risks behavior of Activity of Daily Living)
Home environmental fall risks assessment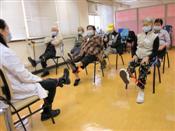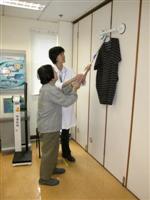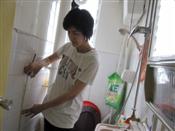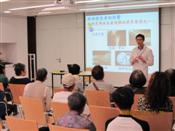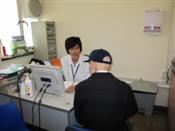 4. Risk Assessment and Management Programme
In this programme, multi-disciplinary healthcare professionals provide comprehensive risk assessment for patients with diabetes mellitus and hypertension, so as to screen for complications and offer appropriate interventions and education. This programme aims to improve the quality of care for patients with important chronic diseases in General Out-patient Clinics, and thus better control the disease progression and avoid complications. The team members include Doctor, Nurse, Optometrist, Dietitian, Prosthetist & Orthotist, Physiotherapist and Occupational Therapist.
Programme Content
1. Medical
Act as programme leader & coordinator
Provide advanced medical support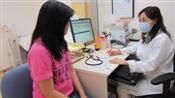 2. Nursing
Acts as case manager
Provides risk assessment, risk stratification, intensified education and nursing intervention
Follow-up on progress & evaluates outcome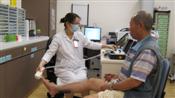 3. Optometry
Takes fundus photos
Provides diabetic retinopathy grading & report of fundus photo for patient risk stratification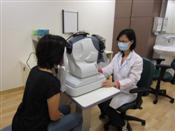 4. Dietetic Advice
To provide dietary assessment according to individual needs. To plan and advise special therapeutic diets for the management of diabetes, heart disease, stroke, gastrointestinal disease, hyperlipidaemia, obesity, malnutrition and rehabilitation therapy etc
To organize out-patients therapeutic nutritional talk and provide dietary education for families and carers of patients who are having diabetes, hyperlipidaemia, hypertension and obesity
To promote research and application of the related clinical dietetic knowledge so that evidence based nutritional advice and guidelines can be implemented to improve dietetic service quality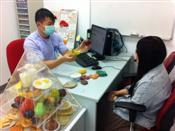 5. Foot Assessment & Consultation
To provide a community-based, one-stop service model to improve health literacy, provide early intervention, promote secondary prevention for chronic diseases, and reinforce self-help strategies among the population.
Prosthetic and Orthotic Services in CHC including timely intervention to musculoskeletal pain condition (e.g. foot and ankle pain condition), screening and complication management in diabetic patients, and empower patients with chronic disease to stay healthy in their own community.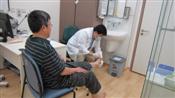 Objective
To facilitate all patients to get access to the proper orthotic treatment in early phases of the disease
To equip patients with proper self care technique in daily handling of their foot problem
To triage patients and minimize avoidable medical consultation
To provide one-stop seamless health care to patients within their own community
6. Physiotherapy
Weight Management Program
Weight management program is one of the important strategies in Dietetic control. Our physiotherapists assist the patient for establishing their aerobic exercise habit. We give support and couching through personal consultation, group therapy, empowerment talk and telephone follow-up.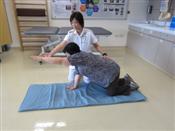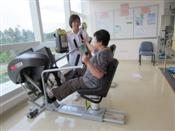 7. Occupational Therapy
Stress Management & Mind Body Relaxation
The chronic disease is not only impairing one's health, but affect the psychosocial wellbeing as well. The emotion & wellbeing promotion program aims to assist them to rediscover embracing them is not solely by the chronic disease. We use the wellbeing promotion program, stress management training and mind-body activities (e.g. Health Qigong BDJ) to enhance their wellbeing. We would like to assist them to regain strength to dance with the chronic disease ultimately.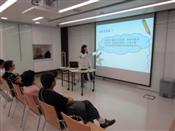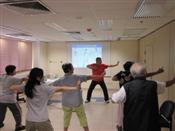 Occupational Lifestyle Redesign for Active Living
Occupational Lifestyle Redesign program aims to assist the chronic disease to aware the relationship between their diseases and lifestyle. By introducing health-induced activities into their daily life, it is believed that they can be more active in disease management and function well in their life roles more healthy.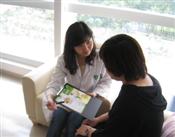 5. Patient Empowerment Programme
Through collaboration between the Hospital Authority and participating non-governmental organizations, a multi-disciplinary team is formed to develop appropriate teaching materials and aids for common chronic diseases, and to provide structured empowerment courses to suitable patients. This programme aims to further enhance chronic disease patients' knowledge and ability in self-management of their diseases, so as to prevent possible complications, and to improve their self-management skills.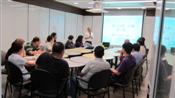 6. Smoking Cessation and Counseling Service
With professional assessment, suitable treatment and psychological support, encourage to quit smoking and provide a healthier well-being of the patient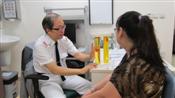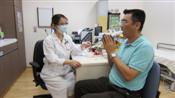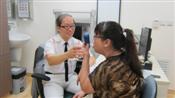 7. Integrated Mental Health Programme
A programme with collaboration among family physicians, registered social workers and psychiatrists between the Hospital Authority and participating non-government organization, to provide patient-centered care to patients suffering from anxious or depressive mood in the community. Psychological intervention within the program includes individual/group counseling, psychotherapy, behavioral activation and drug treatment according to risk and severity. Family physician plays a good position to minimize patients concern about stigmatization and is the team leader to provide whole person comprehensive care to address the physical, psychological and social needs of our patients.
Target : Patients attending GOPC aged 18 or above, present with anxiety, depression, insomnia or adjustment problems
Objective : To enhance patient well being and improve treatment outcomes through early identification and intervention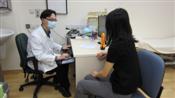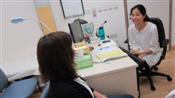 8. Allied Health Clinic
Degenerative Knee Clinic
Frozen Shoulder Clinic
Back Clinic
Aims at a one-stop service in primary Health setting. Our physiotherapists provide a prompt and individualized service which includes individual consultation and therapeutic group. The patients are equipped with self-management techniques for alleviation of their agony and improvement of quality of life. At the same time, suitable community resources are introduced for the continuity of care.
Our services include:
Individual Assessment
Therapeutic Group
Tailor-made Short Term Program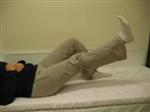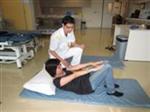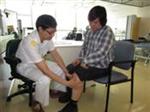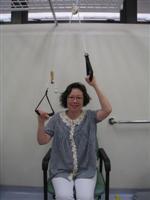 9. Pharmacy Service
Aims to deliver pharmaceutical care to patients in a safe and efficient manner for the purpose of achieving definite outcomes that improve patients' quality of life.
Service Scope
Provide effective, appropriate and accurate medicines
Provide comprehensive drug counseling service to patients and their careers
Monitor the quality of supplied medicines
Promote safe and effective use of medicines by providing current drug information to doctors and healthcare professionals
Collaborate with other healthcare workers or community partners to deliver drug education to patients and their careers, enhancing their knowledge to manage their medication effectively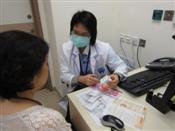 Service Hours
Registration Time
Consultation Time
Monday – Friday
8:45 am to 12:30 pm
1:45 pm to 4:30 pm
9:00 am to 1:00 pm
2:00 pm to 5:00 pm
Saturday
8:45 am to 12:30 pm
9:00 am to 1:00 pm
Sunday and Public Holiday
Closed
24-hours telephone booking number for patient with episodic illness: 2469 9222
Contact Us
Address
3 Tin Yip Road, Tin Shui Wai (Opposite to HK Wetland Park and Vianni Cove of Tin Kwai Road)
Telephone
3124 2200
24-Hours
Telephone
Booking Number
2469 9222 (for patient with episodic illness only)
Transportation
LRT
Route No. 705 or 706 to Tin Sau Station
Mini Bus
Route No. 618 to Vianni Cove, Tin Kwai Road
Bus
Route No. 967, 967X, 265S, 276B and 969C to Vianni Cove, Tin Kwai Road;
Route No. K73 to Ching Pik House, Tin Ching Estate