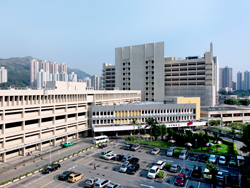 Tuen Mun Hospital (TMH) is an acute hospital.
Tuen Mun Hospital includes a ten-storey Main Block, a thirteen-storey Rehabilitation Block, a four-storey Special Block, an one-storey Radiotherapy Block, a two-storey Pathology Block, a sixteen-storey staff quarters and a ten-storey Ambulatory Care Centre.
The existing specialties include:
| | | |
| --- | --- | --- |
| - Accident & Emergency | - Radiology | - Ear, Nose & Throat |
| - Anaesthesia | - Neurosurgery | - Psychiatry |
| - Clinical Oncology | - Nuclear Medicine | - Medicine & Geriatrics |
| - Clinical Pathology | - Obstetrics & Gynaecology | - Surgery |
| - Orthopaedics & Traumatology | - Ophthalmology | - Paediatrics & Adolescent Medicine |
A full range of allied health services is provided. This includes Dietetics, Pharmacy, Physiotherapy, Occupational Therapy, Prosthetic-orthotic Services, Speech Therapy, Podiatry and Clinical Psychology.
Below are the calendar of events of Tuen Mun Hospital:
The hospital started admitting patients on 8 March 1990;
The Day Procedure Unit was opened in November 1990;
The 24-hour accident & emergency service commenced in January 1992;
The Ambulatory Care Centre was opened on 26 June 2001.
Tuen Mun Eye Centre was opened on 29 March 2005. It was relocated from Yuen Long and expanded to provide quality eye services and eye operation for the patients in the Cluster.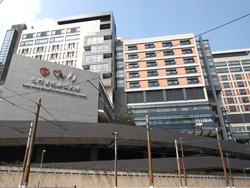 A 13-storey Rehabilitation Block was opened in mid-August 2007 and entered into service by phases.
In the new building, allied health services such as physiotherapy and occupational therapy services are provided on ward floors. Each floor is integrated with rehabilitation facilities with ward facilities. Besides, the building is illuminated by daylight through the glazed roof. A shared garden and a public open space contribute to a cozy environment.
Ambulatory Care Services
In line with the Cluster development strategies, Tuen Mun Hospital endeavors to shift the traditional in-patient service delivery model towards a quality ambulatory and community care delivery model.
It aims to enhance the quality of patient service, to minimize admission, to facilitate early discharge and to reduce length of in-patient stay.
Ambulatory Care allows patients to stay away from the hospital in-patient environment and shift the performing of medical procedures to an ambulatory setting.
The planning of ambulatory services focuses on the following areas:
Accident and Emergency and related services
Ambulatory surgical and related services
Ambulatory medical services