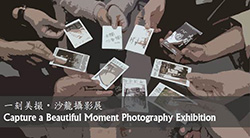 2016-03-04 - 2016-03-07 – Capture a Beautiful Moment Photography Exhibition
"Capture a Beautiful Moment" Photography Exhibition is organised by the Art-in-CPH project group, the Institute of Mental Health, Castle Peak Hospital. The exhibited photos were taken by the service users of the Buddy Support Programme together with our doctors, nurses, occupational therapists and volunteer tutors. Through this exhibition, we hope the public can gain a better understanding of the inner world of our service users so as to promote social inclusion and enhance public awareness in mental health.
Date:
4 - 7 March 2016
Venue:
Foyer Exhibition Area (E2)
Hong Kong Cultural Centre
Tsim Sha Tsui
Opening Hours:
4 March 2016 12:00 – 23:00
5 March 2016 09:00 – 23:00
6 March 2016 09:00 – 23:00
7 March 2016 09:00 – 15:00
Fee:
Free of charge
For further information, please click open the
For any enquiries, please contact Mr. Wong at 2456 7775.
We are looking forward to meeting you at the exhibition at the Hong Kong Cultural Centre.