Tuck Shop
Objectives
The tuck shop provides convenience retail service for patients and visitors. Items sold include food and drinks of individual packing, daily personal care products, as well as small amount of napkin. Profits are allocated to resident fund for sponsorship of resident activities.
(All tuck shop items are sold at fixed price and must be paid by cash only)
Information of Tuck Shop
Address: Lobby, G/F, Cheshire Home, Shatin, No 30, A Kung Kok Shan Road, Shatin, N.T.
Opening Hour
Monday ˇV Friday: 6pm ˇV 8pm
Saturday, Sunday & public holidaysˇG6pm ˇV 8pm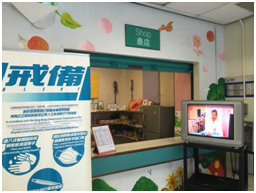 ˇ@