Allied Health
Physiotherapy Department
Mission
The physiotherapy department is part of the rehabilitation team in Cheshire Home Shatin. We aim to provide suitable and high quality physiotherapy to our patients as to maximize independence, minimize functional deterioration and promote social integration.
Scope of Service
Provides chest physiotherapy to maintain the lung function of the patients.
Provides strengthening exercise, stretching exercise and cardiovascular training to maintain and improve the strength and co-ordination of muscles, the range of movement of joints and cardiovascular function.
Provides mobility and balance training to maintain and improve the mobility level of the patients
Provides fall prevention program to patients to minimize the risk of fall.
Provides pain relief treatment including electrotherapy, thermotherapy and manual therapy.
Provides education on transferring and caring skills to carers
Provides Boccica training program to improve eye-hand co-ordination of patients.
Contact us
Tel: 2636 7255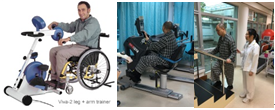 Occupational Therapy Department
Vision
All our clients shall lead the meaningful life of their choice.
Mission
We empower our clients to return to their valued life roles at home, work and leisure by making the best use of their functional capabilities.
Scope of Service
ADL Assessment & Training
Upper Limbs & Hand Functional Assessment & Training
Cognitive Assessment & Training
Wheelchair Prescription & Training
Computer Simulated Training
Prescription of Splintage
Prescription of Assistive Device
Prescription of Assistive Device
Pressure Therapy
Consultation for Home Modification
Contact us
Tel: 26367258
Medical Social Service Unit
Vision
To better understand and help people with disabilities in their social context.
To advocate the right of people with disabilities access to a better life and to get their psychological, social and spiritual needs met.
Mission
To understand and help residents and their families in their own context.
To tailor-make the specific care plan to meet the unique needs of every resident.
To enable residents maximizing their residual functioning and constructing their personal meaning of their lives.
Scope of Service
To address the physical, psychological, social and spiritual concerns of residents and families and to response the need when appropriate.
To work with the health care professional team for a comprehensive care plan.
To help residents to fix their daily routines and broaden their life-experiences through case management, patient group activities, programs, health educational talks and volunteer coordination.
To encourage residents and their families a positive communication with health care professionals.
Contact Us
TelĄG2636 7269
Department of Dietatics
Mission
Providing quality and evidence-based dietetic service to optimize patients' health.
Roles
Provide quality dietetic services to effect responsive nutritional care to referred patients.
Carry out nutritional assessment and provide appropriate dietetic intervention to referred patients.
Counsel referred patients and carers, on nutritional principles, therapeutic dietary plans and food selection.
Provide consultation to clinical management team on nutritional care for referred patients.
Liaise with the Catering Department to provide patients with therapeutic diets to optimize their nutritional well being.
Speech Therapy Department
Aim
To provide rehabilitation to residents to ensure their swallowing safety as well as communication competence.
Scope of Service
Provide oral motor and language assessment and training
Provide communication assessment and training
Provide swallowing assessment and training
Provide education to residents and their caregivers on swallowing function and feeding safety
Provide professional advice to the health care team on residents' communication and swallowing ability
Provide regular seminars on safe feeding and effective communication skills
Podiatry
Mission
Our mission is to provide efficient, safe and comprehensive foot care to all patients by:
Closely partnership with patients, carers and patients' families.
Continuously improving service by client's feedback.
Regularly review the quality of service and implement improvement plan.
Collaboration with other health care professionals.
Vision
To pursue excellence in foot care, medication safety, community foot health promotion and research development.
Ą@