PWH Extension Block Project
The Prince of Wales Hospital was planned in the 1970s and commenced operation in 1984. It is now the largest hospital in the New Territories East Cluster, providing acute and tertiary services. It also serves as the teaching hospital of the Faculty of Medicine of The Chinese University of Hong Kong .
In order to provide additional space to meet the long-term medical demands of the community and training needs of healthcare professionals, the Government and the Hospital Authority commissioned the construction of an Extension Block in 2007. The Main Clinical Block and Trauma Centre commenced service in October 2010. With a total gross floor area of 71,500 square metres, this 13-storey building brings about a better environment for patients.
870 inpatient beds
Intensive Care Unit
High Dependency Unit
Emergency Medicine Ward
16 operating theatres
30 ambulatory beds
Accident and Emergency Department
Floor Directory
Level
Service
G
Main Entrance
Enquiry
Accident and Emergency Department
A&E Registration and Admission Office
Convenience Store
Rehab Shop
Mortuary

1
Inpatient Pharmacy
Shroff
Auditorium
Taxi Stand
Coffee Shop

2
Footbridge to Day Treatment Block and Children Wards
Emergency Medicine Ward
Cardiovascular Intervention Centre
Department of Imaging and Intervention Radiology (X-ray)

3
Operating Theatres
Day Surgery Centre
Rapid Response Laboratory
Blood Bank

4
Intensive Care Unit
Integrated Ward (Eye / ENT Head & Neck / Dental)

5
Intensive Care Unit
Operating Theatres
Burns Centre
Skin Bank

6
Private Ward

7
7A: Medical Ward (Stroke Unit / Neurosurgery High Dependency Unit)
7B: Surgical Ward (Neurosurgery)
7C: Surgical Ward (Cardiothoracic)

8
8A, 8B, 8C: Surgical Wards

9
9A, 9B, 9C: Orthopaedic Wards

10
10A: Medical Ward
10B: Medical Ward / Poison Treatment Centre
10C: Medical Ward (Coronary Care Unit / High Dependency Unit)

11
11A,11B,11C:內科病房

12
12A:內科/隔離病房
12B:內科病房
12C:隔離病房

Relocation Arrangements
Patient services were relocated to the Main Clinical Block in stages from 11 October 2010. The relocation was completed on 31 October 2010.
Clinical Oncology, Obstetrics and Gynaecology, Paediatrics , Neo-natal and Paediatric Intensive Care Units, and the Li Ka Shing Specialist Outpatient Clinic (including shroff and pharmacy) remain in their original locations.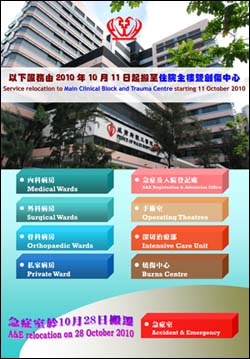 Entrance of the Main Clinical Block faces the bus terminus. It can be reached by the following means—
Bus: 80K, 82M , 73A , 82K, 84M , 85A , 86, 89X
Minibus: 804, 808, 811
MTR: City One Station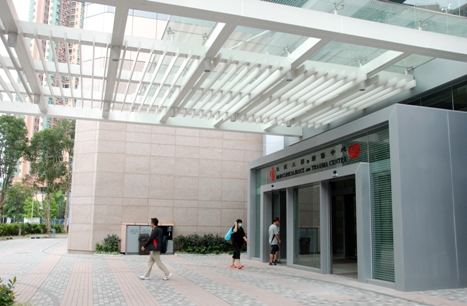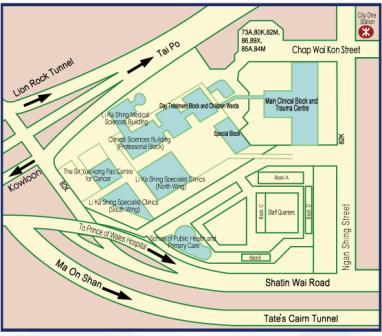 click to enlarge map
Updated on 23 June 2011