Patients' Rights and Responsibilities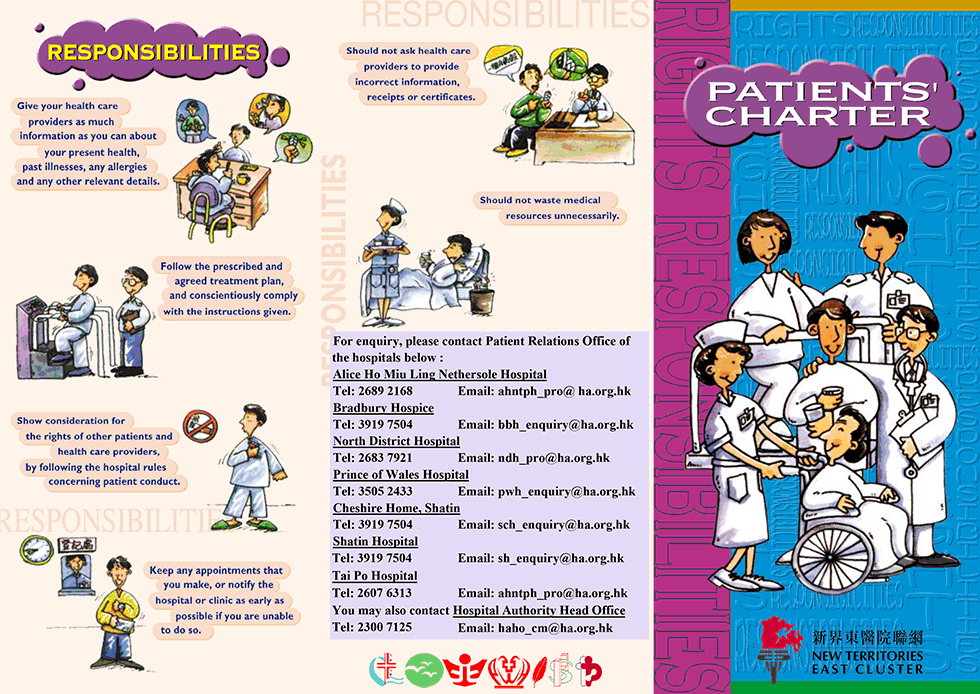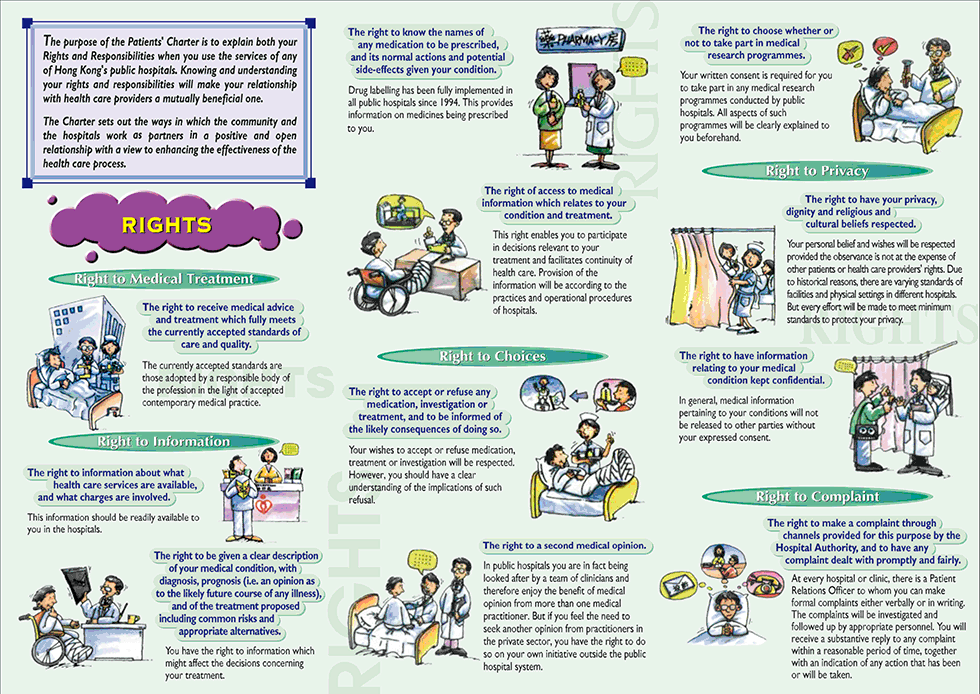 Patientsˇ¦ Charter ˇV Responsibilities
Responsibilities
Give your health care providers as much information as you can about your present health, past illnesses, any allergies and any other relevant details.
Follow the prescribed and agreed treatment plan, and conscientiously comply with the instructions given.
Show consideration for the rights of other patients and health care providers, by following the hospital rules concerning patient conduct.
Keep any appointments that you make, or notify the hospital or clinic as early as possible if you are unable to do so.
Should not ask health care providers to provide incorrect information,receipts or certificates.
Should not waste medical resources unnecessarily.
ˇ@
NTEC Patient's Relations Office
For any enquiry or assistance, please contact our hospitalsˇ¦ Patient Relations Officers:
Patients' Charter
The purpose of the Patients' Charter is to explain both your Rights and Responsibilities when you use the services of any of Hong Kong's public hospitals. Knowing and understanding your rights and responsibilities will make your relationship with health care providers a mutually beneficial one.
The Charter sets out the ways in which the community and the hospitals work as partners in a positive and open relationship with a view to enhancing the effectiveness of the health care process.
Patients' Charter - Rights
Right to Medical Treatment
The right to receive medical advice and treatment which fully meets the currently accepted standards of care and quality.

The currently accepted standards are those adopted by a responsible body of the profession in the light of accepted contemporary medical practice.



Right to Information
The right to information about what health care services are available, and what charges are involved.

This information should be readily available to you in the hospitals.



The right to be given a clear description of your medical condition, with diagnosis, prognosis(i.e. an opinion as to the likely future course of any illness), and of the treatment proposed including common risks and appropriate alternatives.

You have the right to information which might affect the decisions concerning your treatment.



The right to know the names of any medication to be prescribed, and its normal actions and potential side-effects given your condition.

Drug labelling has been fully implemented in all public hospitals since 1994. This provides information on medicines being prescribed to you.



The right of access to medical information which relates to your condition and treatment.

This right enables you to participate in decisions relevant to your treatment and facilitates continuity of health care. Provision of the information will be according to the practices and operational procedures of hospitals.



Right to Choices
The right to accept or refuse any medication, investigation or treatment, and to be informed of the likely consequences of doing so.

Your wishes to accept or refuse medication, treatment or investigation will be respected. However, you should have a clear understanding of the implications of such refusal.



The right to a second medical opinion.

In public hospitals you are in fact being looked after by a team of clinicians and therefore enjoy the benefit of medical opinion from more than one medical practitioner. But if you feel the need to seek another opinion from practitioners in the private sector, you have the right to do so on your own initiative outside the public hospital system.



The right to choose whether or not to take part in medical research programmes.

Your written consent is required for you to take part in any medical research programmes conducted by public hospitals. All aspects of such programmes will be clearly explained to you beforehand.



Right to Privacy
The right to have your privacy, dignity and religious and cultural beliefs respected.

Your personal belief and wishes will be respected provided the observance is not at the expense of other patients or health care providers' rights. Due to historical reasons, there are varying standards of facilities and physical settings in different hospitals. But every effort will be made to meet minimum standards to protect your privacy.



The right to have information relating to your medical condition kept confidential.

In general, medical information pertaining to your conditions will not be released to other parties without your expressed consent.
Right to Complaint
The right to make a complaint through channels provided for this purpose by the Hospital Authority, and to have any complaint dealt with promptly and fairly.

At every hospital or clinic, there is a Patient Relations Officer to whom you can make formal complaints either verbally or in writing. The complaints will be investigated and followed up by appropriate personnel. You will receive a substantive reply to any complaint within a reasonable period of time, together with an indication of any action that has been or will be taken.
ˇ@