Adult HSCT
Adult Haematological Stem Cell Transplant
About Us
What is BMT? And what is HSCT?
---
Bone marrow transplant (BMT) is the curative treatment of choice for many haematological diseases. The term BMT has recently been replaced by the broader term Haematopoietic Stem Cell Transplant (HSCT) to include the multiple sources of donor stem cells available for transplantation: bone marrow, peripheral stem cells and umbilical cord blood.
Haematopoietic stem cells are the stem cells located in the red bone marrow, and have the capacity to give rise to all other blood cells, including red blood cells, white blood cells, and platelets.


The traditional classification of HSCT was based on relationship of donor to patient:
Autologous HSCT uses stem cells from a patient's own marrow or peripheral blood. It is mainly performed in patients with multiple myeloma and lymphoma.
Allogeneic HSCT uses stem cells from a human leukocyte antigen (HLA) closely matched sibling or unrelated donor. It is mainly performed in patients with acute leukaemia, myelodysplastic syndrome, and severe aplastic anaemia
Syngeneic HSCT uses stem cells from an identical twin
In contrast to other solid organ transplants where the primary aim is to replace a lost organ function, the goals of HSCT are:
in patients with malignancies (which account for >80% of HSCT): to rescue the marrow from the toxic effects of high dose chemotherapy with or without total body irradiation, and in allogeneic HSCT to achieve long term disease control through an immune mediated graft-versus-tumour effect
in patients with bone marrow failures or immunodeficiencies: to replace non-functional bone marrow or non-functioning immune system
Milestones
History of HSCT
The first successful BMT in the world was performed in 1959. It was a syngeneic transplant in a patient suffering from leukaemia. The donor was his identical twin brother (sibling).
History of Adult HSCT in QMH
The first BMT in Hong Kong was performed in March 1990 in the Bone Marrow Transplant Centre at Queen Mary Hospital (QMH). The Centre started off with 2 and gradually building up to 10 inpatient beds (including both adult and paediatrics patients) and a transplant laboratory in ward J8N, and a day-patient clinic at J8S.
Beginning with less than 20 BMT procedures in the first year and rapidly increasing to over 40 in the second year, the QMH adult HSCT centre is now performing over 100 transplants annually. The demand for the service has steadily increased over the years with expanding transplant indications and the success with "alternative donor" HSCT.
The Hong Kong Marrow Match Foundation (HKMMF) set up in 1991 was the world's first all-Chinese bone marrow donor registry and facilitated the first matched unrelated BMT in 1992. The HKMMF later transferred the management of the donor data to the Hong Kong Red Cross in 2005. The Hong Kong Bone Marrow Donor Registry was set up and current managed under the Hong Kong Blood Transfusion Service. The introduction of reduced intensity conditioning and improvement in supportive care has also up-lifted the age limits for HSCT and allowed patients who were once ineligible because of advanced age or comorbidities to benefit from HSCT. With the increasing experience with haplo-identical transplant worldwide, we performed our first haplo-identical transplant in 2014.
1st Unrelated Cord Blood Transplant in adult
1st Reduced Intensity Conditioning HSCT
1st Matched Unrelated BMT
1st Peripheral Blood Stem Cell transplant
Transplant Recipient's Survival Rates
QMH received 180-200 transplant referrals a year, including ~150-160 allogeneic and 30-40 autologous transplant referrals a year.
By end of 2015, 2266 adult HSCT procedures have been performed (Fig 1-2). The overall 1-year, 3-year, and 5 years patient survival rates after autologous transplants were 82.3%, 62.8%, and 56.7% respectively. And for patients after allogeniec transplants, they were 74.5%, 56.1% and 50.9%.
Patient Survival Rate after Autologous Transplant
Patient Survival Rate after Allogeniec Transplant
To cope with the increasing demand, the transplant capacity in QMH has increased to 18 inpatient isolation rooms in 2013 to provide allogeneic transplants to the whole territory and autologous HSCT service for the Hong Kong West Cluster. In addition, six additional adult autologous transplant centres were also set up in other HA clusters to perform autologous transplants for patients from their own cluster in order to further increase the allogeneic transplant capacity in QMH.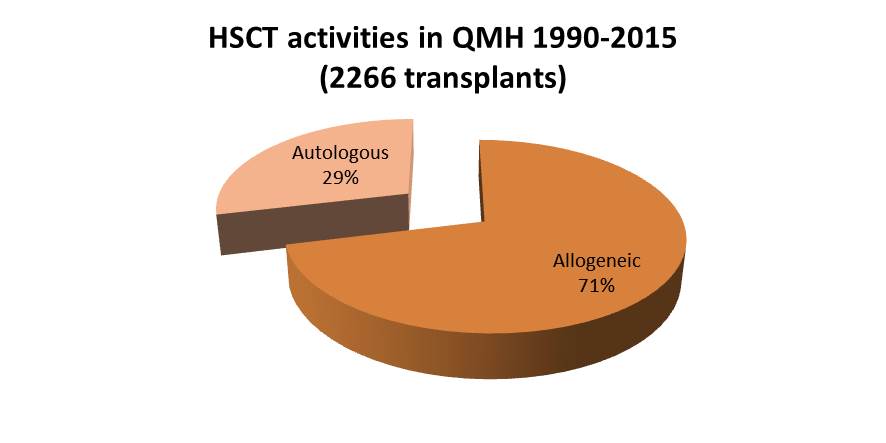 Fig 1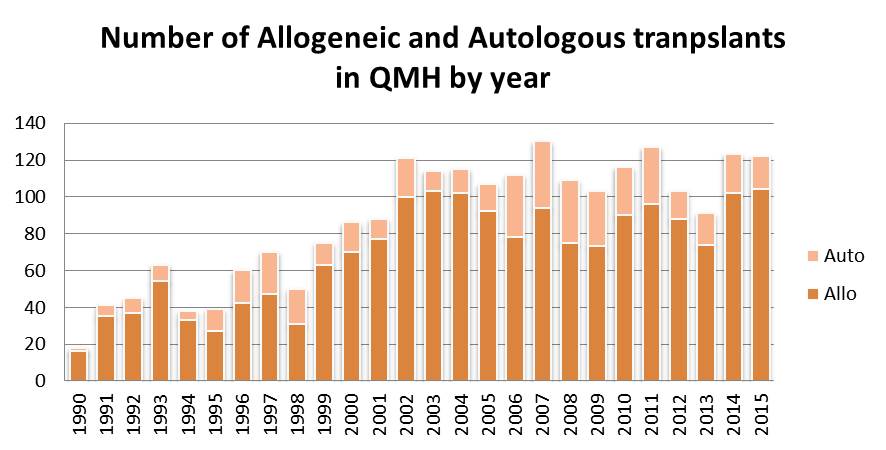 Fig 2
How to Become a Bone Marrow Donor?

Good Health

No Known infectious Diseases

Age 18 to 60
√ Register at any one of the 8 blood donor centres
√ Complete the Marrow Donor Registration Form
√ Undertake a brief health enquiry
√ Donate a blood sample for testing (~5ml)
√ Receive a Donor Card with your HKBMDR donor number