Michelin-style trio tailor-made for patients
The traditional view of restricted diets for patients dealing with serious medical conditions such as cancer is that they are boring and bland. Queen Elizabeth Hospital hopes to help change that opinion with the issuing of a revised and enlarged edition of its popular The Taste of Happiness cookbook. With plenty of colourful photos, this collection of original recipes provides people on restricted diets a wealth of delicious options that use fresh and seasonal ingredients. To help whet your appetite, QMH has provided HASLink with three fantastic recipes – an appetizer, a main course and a dessert – to share with our readers.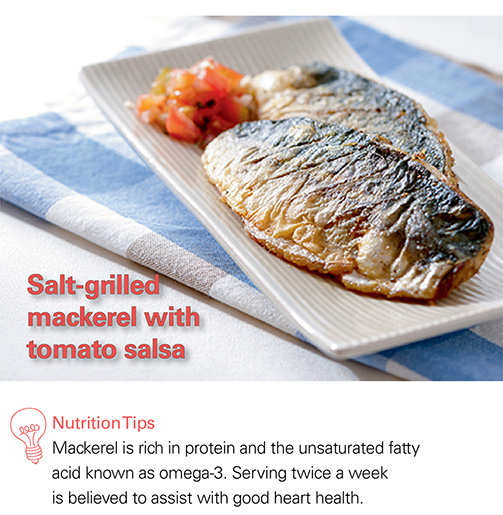 Frozen mackerel fillets 2
Salt 1/2 tsp
Ground black pepper
Lemon 1/4
Tomato 1
Grated garlic 1 tsp
Chopped shallot 2 tsp
Salt 1/4 tsp
Sugar 1 tsp
Finely chopped coriander (optional)
Lemon juice 1 tsp
Ground black pepper
1.Thaw the mackerel fillets. Rinse and wipe dry. Make a few light incisions on the skin. Rub salt and ground black pepper evenly on the fillets and set aside for a while.
2. Coat the mackerel fillets lightly in corn starch. Fry in a little oil until golden on both sides.
3. To make the salsa, rinse tomato and dice finely. Toss all ingredients together. Serve mackerel fillets with salsa on the side.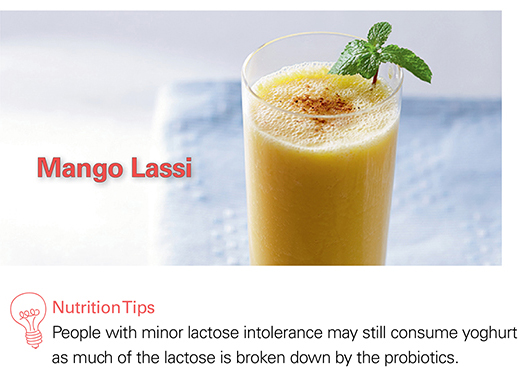 Mango 1
Yoghurt 1 cup
Whole milk 1/2 cup
1. Peel and core mango. Dice it.
2. Put diced mango, yoghurt and milk into a blender. Blend until smooth.
3. Optionally, sprinkle with a dash of ground cardamom for an authentic Indian touch.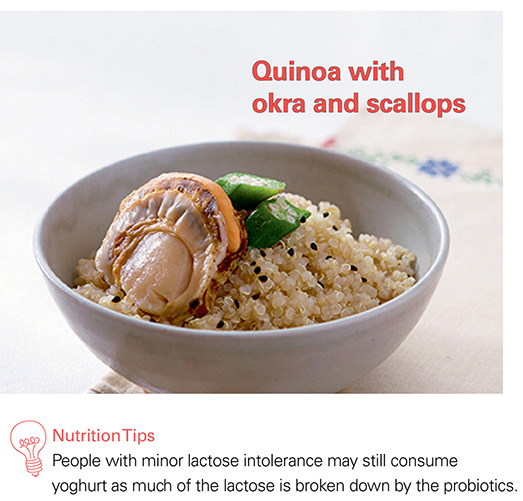 Quinoa 1/2 cup (85 g)
Scallops 2 (90 g)
Water 1 cup
Black sesame seeds
Okras 4 pieces
1. Rinse quinoa and scallops well.
2. Put in quinoa and water in a pot. Add ½ tsp of salt. Bring to the boil. Turn to low heat and simmer for 15 minutes. Add scallops and cook for 5 minutes. Turn off the heat and cover the pot. Leave for 5 minutes.
3. Rinse the okra. Blanch in boiling water with a pinch of salt and a little oil. Drain.
4. Pour the quinoa into a bowl. Top with scallops and arrange okra on the side. Serve.